Mutterkleid.de - Custom Shopify automations
The challenge
Mutterkleid.de is an online store for pregnancy and breastfeeding fashion. The company uses Shopify as the platform for its online store. The company has a lot of automations and processes that it has to manually to perform in order to run the online store. These processes are very time consuming and inefficient. The company needed a solution that would automate these processes and improve the efficiency of the company's . In addition, the solution needed to be scalable and the ongoing costs needed to be as low as possible to keep up with the company's growth. The following processes were automated:
Inventory automation
Since maternity wear is only worn for a short time, Mutterkleid.de offers a rental function. The rented items can either be returned or purchased after four weeks. If an item is not returned after four weeks the rental is automatically extended for another four weeks, or the item belongs to the customer after an already extended rental. Rented and returned items are listed as used items. All these different item variations have different prices and purchase options, but the same inventory. This inventory must be updated automatically when an item is rented, purchased or returned.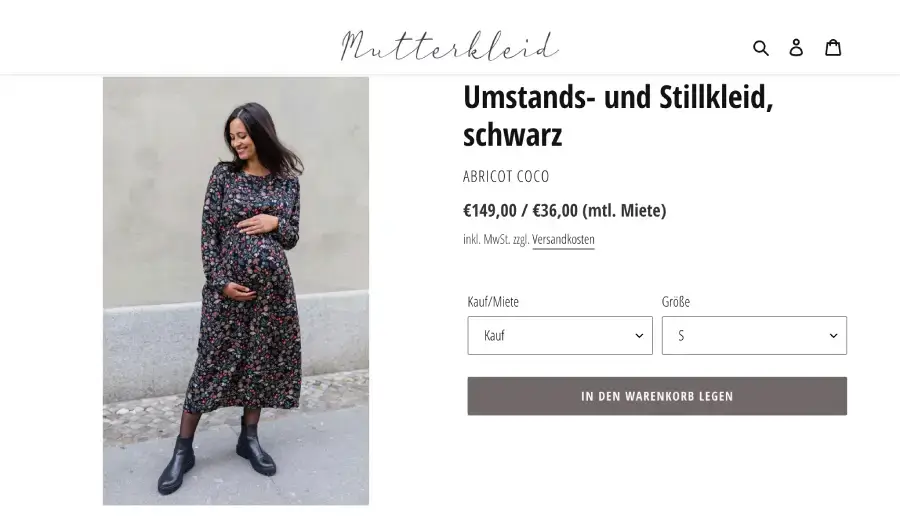 Email automation
In order to keep customers informed about the status of their lease, individual emails need to be sent to customers on a regular basis. These emails are sent just before the lease expires and with the invoice when the lease is renewed. Currently, these emails are sent manually.
The solution
In addition to automating the processes, the focus of the solution was on scalability and cost. At asapteq, we always focus on the best possible architecture and technology choice. That is why we decided against the common practice of implementing the automations using a permanently running server. Instead, we have opted for a serverless architecture. This offers many advantages, such as scalability, cost and maintenance. The serverless architecture is an architecture in which the servers do not run permanently, but only when they are needed. Thus, only the resources that are actually needed are provisioned.
Mutterkleid Automations - Architecture
The result
The automations have significantly improved the company's efficiency and made the operation of the online store much easier. The automations have reduced the company's costs and improved its scalability. The processes are now easier and faster to manage. The company can now keep up with the growth of the business more efficiently.